Dumpster Rentals KNOXVILLE
Driveway Dumpster® & Roll Off Dumpsters Service
15-yard Dumpsters in Knoxville
Our Driveway Dumpster® / Roll-Off Dumpsters are perfect for residential clean-outs or construction jobs. They can hold up to 15-yards of debris and measure 13 feet long, 8 feet wide, and approximately 5 feet tall. The wide back door swings open for easy loading. Junk Bee Gone's driveway dumpsters are designed to fit in all types of spaces.
Dumpster Rental Process
Our dumpster service process is as simple as possible. Give us a call, schedule a drop-off time, load up your dumpster, and then call us for pickup. All of our operations fees are included in your pricing. We service all a 50-mile radius around Knoxville. A trip fee is applied if you are more than 30-miles outside of Knoxville.
No hidden fees
Just like our dumpster service process, and our fees are simple as well. There are never any hidden fees. If you're outside of our service radius we will let you know before you rent your dumpster.
*Rates include delivery, pick up & disposal for up to 2-tons of debris
*Contractors give us a buzz for longer time periods and special rates.
Current Coupons & Discounts
WE WILL PICK UP:
Construction debris
Household cleanout projects
Kitchen/Bath/Home Remodels
Shingles
Office/Warehouse Cleanouts
Yard Debris (sticks, shrubs, limbs, bushes, etc.)
Foreclosures
Estate Cleanouts
We do
 

NOT

 

pick up:

Hazardous items such as:
Paint, chemicals, solvents

Asbestos

Gas

Oil

Propane tanks

Anti-freeze

Tree stumps

Logs

Railroad ties

Tires
For a limited time, receive $10 off our Driveway Dumpster® service when you mention this coupon on the website.
DUMPSTER RENTAL COVERAGE AREA
Junk Bee Gone covers about a 40-50 mile radius of Knoxville. Whether you need quick Full Service Junk Removal estimate or a Dumpster Rental, we are here to help. Give us a BUZZ today to schedule an appointment!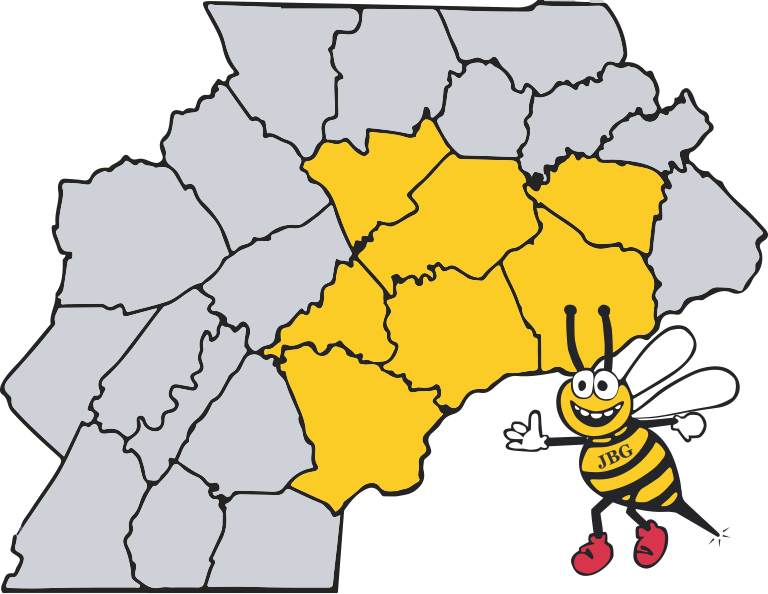 JEFFERSON COUNTY
• Dandridge
• Jefferson City
• New Market
• Strawberry Plains
• White Pine
ROANE COUNTY
• Harriman
• Kingston
• Rockwood
HAMBLEN COUNTY
• Morristown
MONROE COUNTY
• Sweetwater
• Vonore
• Tellico Plains
Frequently Asked Questions
What exactly is Junk Bee Gone?
Junk Bee Gone LLC removes unwanted items from homes and businesses by providing 4 distinct services- junk removal, driveway dumpsters, paper shredding and light demolition. Our full service junk removal will send out a two man uniformed team. They will provide a free estimate on each appointment. Once you agree with the estimate the two man team will load up the junk (at the same time in most cases) and off it goes! The Driveway Dumpster® is a 15 cubic yard open top container. We drop it off, you load it up and say goodbye to your junk! The paper shredding division is completely secure, HIPAA compliant and 100% of the paper/cardboard is recycled. Finally, the demolition division will remove garages, sheds, mobile homes and so much more.
What does "Full Service" mean?
Full Service means we have a two man uniformed team that will provide all of the labor to load your unwanted items on our truck. There is no need for you to take the items to the garage or curb. We will collect the items from basements, attics, garages or back yards, etc.
Do you pick up junk for FREE?
No, we do have to charge for junk removal services.
How does the Driveway Dumpster® Service Work?
The Driveway Dumpster® can be described as our "self-service" removal. We provide a 15-yard open-top container to the location of your choice. You decide on the length of time you need to fill the dumpster. We drop it off, you fill it up, and off it goes! Our dumpsters are 13 feet long, 8 feet wide, and approximately 5 feet tall.
Why do you offer document destruction/shredding?
Due to customer demand we added document destruction/paper shredding to our services. Junk Bee Gone is HIPAA compliant and will provide you with a certificate of destruction for the documents that are removed. One-time removals and monthly bin service is available. 100% of the paper is recycled into paper towels, toilet paper, etc.
Is Junk Bee Gone a franchise?
No, Junk Bee Gone was born in East Tennessee and is a family owned company.
Are you licensed and insured to do this type of removal?
Yes, Junk Bee Gone is fully licensed and insured. We are registered with the city, state and federal government and carry the necessary permits.
What items will you take?
Furniture Appliances Construction material Attic/Basement "junk" such as boxes, books, tires etc. Concrete Yard Debris Lawn mowers Office Paper/Records And a lot more!
What items are you unable to take?
Paint, chemicals, asbestos, any medical or biological waste, and liquid flammable items such as gas, paint thinners, & fluorescent tubes.
Why can't you take hazardous materials?
We are not licensed to carry hazardous materials.
Do you buy any items?
No, we are a junk removal company and do not buy any items.
What do you do with the junk?
Our goal is to recycle, repurpose or reuse whatever items we can. The rest of the items are properly discarded into a landfill.
How do you determine the charge for the full service junk removal?
It is all based on the volume of items we take or what we call the "load of the truck". We use a 16 ft box truck that is 16 feet long, 7 1/2 feet wide, and can be loaded to about 7 feet tall. We can fit approximately 3 full rooms of furniture on our truck. The junk removal fee is based on how much of the truck we fill up (see rate page).
Do you have a minimum charge for the full service junk removal?
Yes, our minimum charge is $130.
Can you give your customers an exact price for the full service junk removal before you arrive?
It is really hard to give an exact price until we can see the items that are going to be removed. We book an appointment and review our pricing with each customer. Every customer is charged the same prices. We can provide ranges on the phone, but the exact estimate will be given at the time of the appointment.
How far in advance do we need to book an appointment?
You should call as soon as you know when you would like the junk removed. We are typically 2-3 days out, but many people who are moving will book us up to 30 days out just to make sure we are available.
Can you complete a job if the customer is not on site?
We prefer our customers to be on site, but yes, we can complete a job without the customer present. We require a cell phone number to call with an estimate and a credit card number for payment.
Does Junk Bee Gone takes credit cards?
Yes, we take cash, Visa, Discover and MasterCard.
Can you move items from one location to another?
On occasion we will pick up and drop off one or two items, but mainly we are in the junk removal business.