>>> BOOK ONLINE GET $10 OFF >>>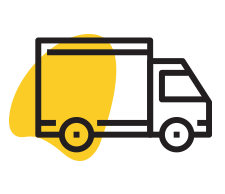 JUNK REMOVAL KNOXVILLE
 Our uniformed 2-man junk removal team will do all the heavy lifting for you. Just point, smile, and all your junk will be gone!
DUMPSTER RENTALS Knoxville
Our 15-yard Driveway Dumpster® is perfect for most junk removal needs. We drop it off, you load it up, we haul it off! Simple as that!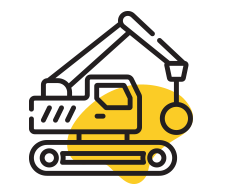 DEMOLITION Knoxville
Junk Bee Gone's demolition division will remove sheds, barns, porches, garages, mobile homes and more. Call us for your demolition needs.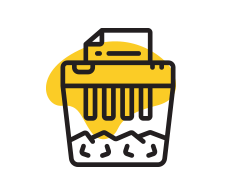 PAPER SHREDDING Knoxville
Junk Bee Gone's paper shredding service is 100% HIPAA compliant. We offer both monthly pick-up options and one-time services. 
Junk Bee Gone helps your home or business with full-service junk removal, dumpster rentals, demolition, hoarding cleanup, and paper shredding all over East Tennessee. 
We service most areas around Knoxville, such as Farragut Maryville, Hardin Valley, Clinton, Lenoir City, Oak Ridge, Powell, Seymour, Karns, and more.
We are completely licensed and insured. Junk Bee Gone keeps as many items as possible out of the landfill by donating, recycling and repurposing the items we remove.  Give us a call today for a quick quote!
JUNK REMOVAL IN KNOXVILLE TN
A friendly, uniformed team will come out to your home or business to provide a FREE ESTIMATE for your junk removal in Knoxville. The junk removal fee is based on the volume of items you have or what we call the load of our truck. Once you agree with the estimate, our 2-man team will load up your junk and haul it away!
Where will we go to get your junk? Anywhere!
Garages, Attics, Basements, Storage Facilities, even Warehouses. We go wherever you need us to remove your junk!
DUMPSTER RENTALS IN
KNOXVILLE, TN
15-yard Driveway Dumpster® / Roll Off Dumpsters
Our Driveway Dumpster® and roll off dumpsters are perfect for residential clean-outs or commercial / construction jobs. They can hold up to 15-yards of debris and measure 13 feet long, 8 feet wide, and approximately 5 feet tall. The wide-swing open barn doors for easy loading and unloading debris. Our dumpster rentals are designed to fit in small spaces.
Junk Removal COVERAGE AREA
Junk Bee Gone covers about a 40-50 mile radius of Knoxville. Whether you need quick Full Service Junk Removal estimate or a Dumpster Rental, we are here to help. Give us a BUZZ today to schedule an appointment!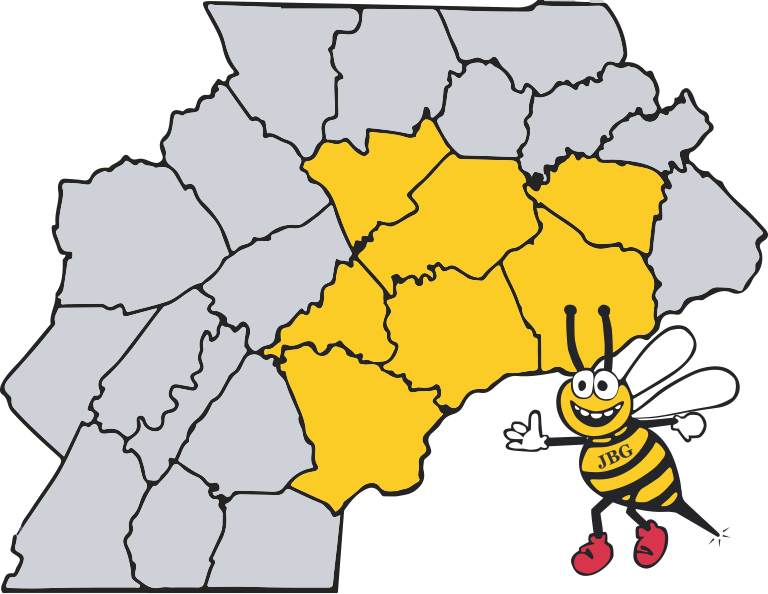 JEFFERSON COUNTY
• Dandridge
• Jefferson City
• New Market
• Strawberry Plains
• White Pine
ROANE COUNTY
• Harriman
• Kingston
• Rockwood
HAMBLEN COUNTY
• Morristown
MONROE COUNTY
• Sweetwater
• Vonore
• Tellico Plains
WHERE DOES THE JUNK GO?
The goal at Junk Bee Gone is to recycle, repurpose and reuse as much "junk" as possible to keep it from filling up the landfills. We recycle metals, paper, and cardboard. Items are donated to organizations like Mission of Hope, Knox County Schools and KARM (Knoxville Area Rescue Mission). This is just a small sample of where the items go, but we are very proud to save as much as 50% from filling the landfills in East Tennessee!